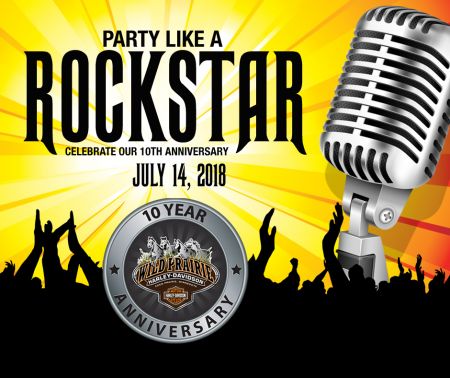 Address
12480 Plaza Drive
Eden Prairie
Minnesota 55344
July 14, 2018 11:30AM - 8:30PM
Party like a Rockstar! 
Ever dreamed of performing on the big stage in front of family, friends, and colleagues?  Wild Prairie Harley-Davidson is excited to give everyone the chance to awaken their inner Rockstar! Party like a Rockstar and perform live with Hurricane Karaoke for your chance to win a  $100 gift card to Wild Prairie Harley-Davidson. 
Food: FREE BBQ  
Hamburgers and Hot Dogs from 11-2 pm and 4:30-6:30 pm 
Beverages: Provided by Wild Boar
There will be a bar to order Beer & alcoholic beverages from 4:30-8:30 pm.
Please drink responsibly.
Karaoke Contest: Become the Lead Singer with Hurricane Karaoke 
Music starts at 4:30 - First come first serve. Winner gets $100 gift card to the store.
How does live band karaoke work? Simply select a song from our list, come up on stage and ROCK OUT. With 200+ song choices, there is truly something for everyone!

We provide the music and the lyrics, you provide the VOICE!

FREE EVENT - NO COVER!

Song list available at:

www.hurricanekaraokeband.com
Back to previous page